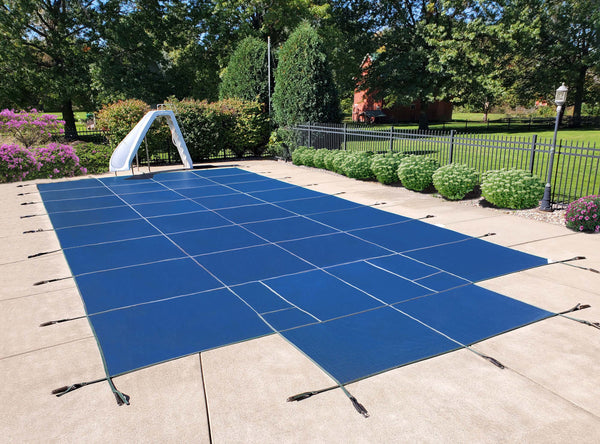 Description
Our Winter Warrior mesh rectangle inground pool winter cover keeps your family and pool safe during the off-season. Keep unwanted debris and critters from getting into the swimming pool when it's not in use. This cover features a CES step option.
Soft & tough material – tight, porous, mesh material keeps out debris
Environmentally friendly
Comes with installation kit for perfect installation – requires holes drilled for anchors
Reinforced webbing on every seam
Quality tested
Keeps your family safe during the off-season – acts as an off-season lifeguard – prevents unwanted intruders & critters
2ft overlap
Do not walk on the pool cover
Requires 3 ft of decking or cement around the pool for proper installation
FAQs
Why do I need a pool cover for my inground pool?

Great question! A pool cover protects your pool from weather and helps to keep out debris that can cause rips, punctures, and other damage. By using a pool cover regularly, you'll extend the life of your pool and minimize repairs and cleaning.
What is the inground pool cover made of?

Our Winter Warrior inground safety covers are made of a durable and environmentally-friendly mesh material.
What size pool cover do I need?

Choose the size that matches your rectangular inground pool. We have pool covers for pools measuring 16x32, 18x36, and 20x40.
What colors are available?

Our Winter Warrior inground safety pool covers come in blue and green. These rich, natural colors blend well into any backyard landscape.
How do I maintain my inground pool cover?

While it's easy to put on your pool cover and forget about it, ongoing maintenance is key.

Frequently inspect your cover for rips, tears, and other damage and carefully remove leaves and other debris when the pool is not in use.
What is the shipping process at LinerWorld?

All LinerWorld swimming pool liners, products, and accessories — including our Winter Warrior mesh inground safety covers — ship free.

Orders placed by 2 PM (CST) typically ship the same day. Most customers receive orders within 1-3 business days.
Do you ship outside of the United States?

Sorry, no. At this point, we only ship within the United States.
What's the return policy for your pool covers?

We accept returns on unopened, unused pool covers, liners, and other accessories within 30 days. Fees and restrictions may apply. Please read our full return policy for more details.
What forms of payment do you accept?

LinerWorld proudly accepts all major credit and debit cards, including Visa, MasterCard, American Express, and Discover.
Can I contact LinerWorld?

We love hearing from customers! Contact us via our online form or live chat with any questions about your cover or other pool accessories.

You can also reach us by emailing support@linerworld.com or calling customer service at (708) 489-9932 during business hours.
Make a splash with these fun extras