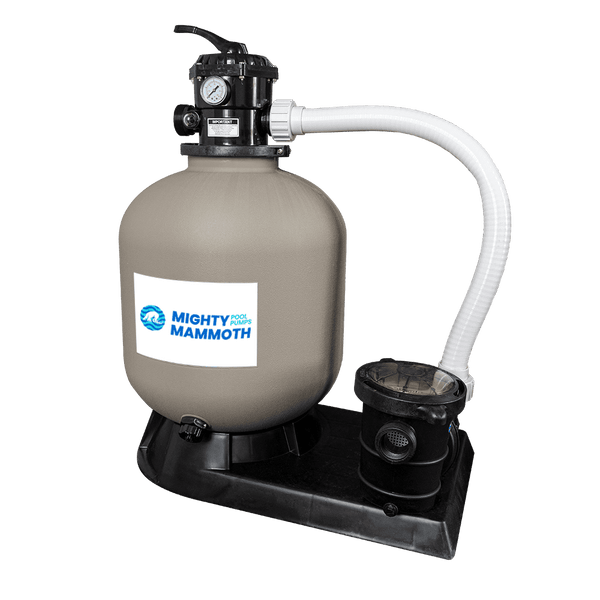 Description
Enjoy improved water clarity with the Sand Filter Tank and Above Ground Pump System from LinerWorld. Each individual system is tested for quality and reliability, ensuring you always get the best product and a great swimming experience.
Sand Filter Tank Features:
Corrosion-proof, compact housing protects the filter from severe weather
Impeller with brass inserts for long life and superior performance
6-Way multi-port provides for easy use and quick back-washing
Hydraulically balanced laterals, speed up flow velocity of filtered water
Drain cap with strainer for easy maintenance and winterizing
Easy-to-use operating system that will keep

 

your above-ground pool water safe and clean
Above Ground Pump Features:
Oversized basket with large debris capacity
See-through strainer cover
1.5-inch intake and discharge
Corrosion-proof reinforced housing
Includes basket & fittings
Powerful & quiet motor
Self-priming & easy-to-use
FAQs
We've compiled some of the top questions about our filter and pump pool systems to help you make the right purchasing decisions for your pool and your family. Need some extra help? Check out our full FAQ page or contact us for more information.
How does a pool sand filter work?

A sand pool filter system works by using specially graded sand to trap and remove impurities and debris from your pool water as it passes through the filter. Here's how it works:

-Water is pumped from the pool through a valve and into the top of the sand filter.
-The water flows through sand, which removes debris, algae, dirt, and bacteria.
-The clean water is then returned to the pool through another valve.

What is the sand filter tank made of?

Our sand filter tanks are made of high-quality polyethylene, which is durable and resists corrosion and cracking from weather and consistent use.
What size filter tank do I need?

At Linerworld, we have two tank sizes available for our Mighty Mammoth sand filter systems:

-The 19-inch tank is recommended for pools up to 21,000 gallons or less
-The 22-inch tank is recommended for pools up to 26,000 gallons

To determine your pool's volume, measure the length, width, and depth of your pool. Multiply these together to calculate the volume of your pool in gallons.

If you have questions or you're not sure what size filter tank is best for your pool, contact us.
What size filter pump do I need?

To determine the proper pump horsepower for your pool, you need to consider the size of your pool, turnover rate, the amount of resistance in your plumbing system, and the types of pool features you have.

In general, a pool pump with a horsepower of 1.5 should be sufficient for most residential swimming pools, but here are some steps to determine the appropriate pump horsepower for your pool:

-Determine your pool's volume: Measure the length, width, and depth of your pool and multiply them together to find the volume of your pool in gallons. (There are online calculators that can help you with this calculation.)

-Determine the turnover rate: The turnover rate is the amount of time it takes for your pool's water to circulate through the filter once. A good turnover rate is around 8-12 hours. Divide your pool's volume by the turnover rate in minutes (i.e., if your pool is 20,000 gallons and you want a 10-hour turnover rate, you'll need to move 2,000 gallons per hour or 33.3 gallons per minute).

-Consider resistance: The resistance in your plumbing system can reduce the flow rate of water, which means you may need a higher horsepower pump to maintain the required flow rate. A pool professional can help you determine the resistance in your plumbing system.

-Consider pool features: If you have additional pool features like a spa, waterfall, or slide, these will require additional flow rates, which may require a higher horsepower pump.

It's important to choose the right size pump for your pool to ensure it operates efficiently and effectively, and to avoid unnecessary energy costs. Contact us if you have any questions.
Can I install the pool filter system myself?

Pool equipment installation and plumbing can be complex and involve electrical and plumbing connections that require specialized knowledge and tools.

Improper installation can result in equipment failure, leaks, and potentially hazardous electrical situations. You may also accidentally warranties on your pump.

With that in mind, we recommend that you hire a licensed and experienced pool professional to ensure that your filter system is installed correctly, safely, and efficiently.
How long will the sand filter system last?

Sand filter systems last about 5-7 years, depending on usage, maintenance, and water quality. Proper maintenance and replacing the sand will ensure the filter continues to work effectively and efficiently.
Are pool sand filter systems easy to maintain?

Pool sand filter systems are generally considered to be relatively easy to maintain, but they do require some regular maintenance to ensure they operate efficiently and effectively.

The most common maintenance task for a pool sand filter is to backwash the filter. Backwashing involves reversing the flow of water through the filter to flush out dirt and debris. You should backwash your filter at least once a week or when the pressure gauge on the filter indicates a high-pressure reading.

The sand in your filter should be replaced every 3-5 years, depending on usage and the condition.
How much sand do I need?

The amount of sand you need depends on which size tank you opt for.

-For the 19-inch tank, you'll need about 150 pounds of filter sand.
-For the 22-inch tank, you'll need about 200 pounds of filter sand.
High-quality filter sand is usually sold in 50-pound bags.
What is the shipping process at LinerWorld?

We strive for fast and free shipping here at Linerworld so you can spend more time actually enjoying your pool. We offer free shipping on all of our swimming pool liners, products, and accessories.

Orders placed by 2 PM (CST) typically ship the same day. Most customers receive their orders within 1-3 business days.
Do you ship outside of the United States?

No. We only ship within the United States currently. Contact us if you have questions or are looking for international shipping options.
Do you have a return policy for your sand pool filter systems?

We accept returns on all unopened, unused swimming pool accessories within 30 days. Some fees and restrictions may apply. Please read our full return policy for more details.
What forms of payment do you accept?

LinerWorld proudly accepts all major credit and debit cards, including Visa, MasterCard, American Express, and Discover.
How can I contact LinerWorld?

Our team is standing by, ready to answer your questions about pool filter systems and all our other high-quality swimming pool liners and accessories. Contact us via our online form or live chat.

You can also reach us by emailing support@linerworld.com or calling customer service at (708) 489-9932 during business hours.

If you have questions about LinerWorld, our pool liners, or our other pool maintenance products and accessories, you've definitely come to the right place. We've put together some of the top questions we get, just to get you started. Not seeing what you need? Don't hesitate to contact us!
Make a splash with these fun extras