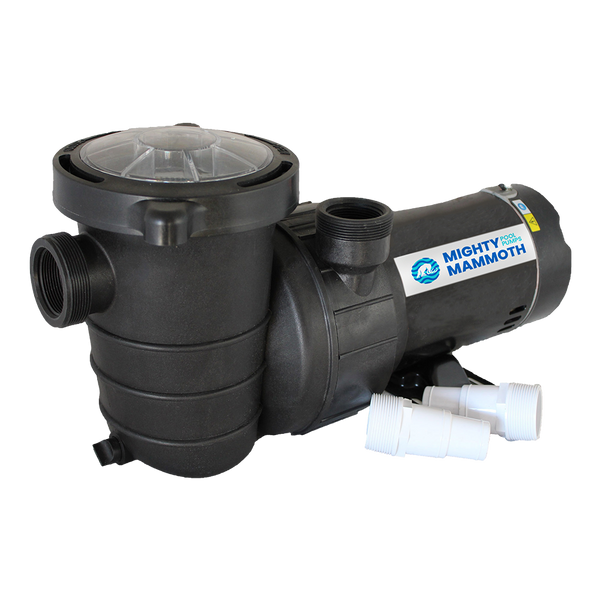 Description
Circulate your pool water to keep your pool clean and safe with an above ground pool pump. Performance tested and easy to use. Includes basket and fittings.
Reliability & performance
Oversized basket with large debris capacity
See-through strainer cover
1.5-inch intake and discharge
Corrosion-proof reinforced housing
Includes basket & fittings
Powerful & quiet motor
Self-priming & easy-to-use
Enhance the quality of your pool water
Years of reliable service with a long motor life
Performance tested
FAQs
Pumps are key to keeping your pool clean, fresh, and cannonball-ready. We've compiled some of the top questions about our pool pumps. If you still have questions, be sure to check out our full FAQ page or contact us for more information.
How does a pool pump work?

Our Mighty Mammoth pool pump creates a constant flow of water that allows the filtration system to remove impurities from the pool, ensuring that the water remains clean and safe for swimming.

The pump motor is the power source that drives the pump. It typically runs on electricity and is connected to the pool's electrical system.

The impeller is a rotating component inside the pump that creates the flow of water. When the pump is turned on, the impeller spins, which draws water into the pump and pushes it out through the discharge port.
What size swimming pool pump do I need?

We offer pumps in 1HP, 1.5HP, and 2HP. Choosing the right size pump for your above ground pool will help make sure your pool is clean and that the pump doesn't waste energy or burn out too quickly.

A pool pump with a horsepower of 1-1.5 is a good fit for most of our residential swimming pool customers. However, here are some considerations when considering the appropriate pump size and horsepower for your pool:

-Pool volume: Measure the length, width, and depth of your pool and multiply them to determine the pool's volume in gallons. Use an online calculator if needed.

-Turnover rate: The turnover rate is the time it takes the water to circulate through the filter once. A turnover rate of 8-12 hours is recommended. To determine the required flow rate, divide your pool's volume by the turnover rate in minutes. (For example, if your pool is 20,000 gallons and you want a 10-hour turnover rate, you will need to move 2,000 gallons per hour or 33.3 gallons per minute.)

-Resistance: The resistance in your plumbing system can reduce the water flow rate, which means you may need a higher horsepower pump to maintain a proper flow rate. A pool professional can assist you in determining the resistance in your plumbing system.

-Pool features: Spas, waterfalls, slides, and other pool accessories and features can impact flow rates, which may require a higher horsepower pump.

Contact us if you have any questions or need assistance.
How long will a pool pump last?

On average, a high-quality pool pump can last anywhere from 8-10 years. Some can last even longer if they are well-maintained.
Are pool pumps easy to maintain?

Pool pumps are just one part of your pool filter system, but they're relatively easy to maintain. Regular maintenance includes cleaning the pump and filter, checking for leaks, and ensuring that the motor is adequately lubricated.

Ongoing maintenance can help to prolong the life of the pump and your entire filtration system.
What is the shipping process at LinerWorld?

Fast and free shipping is just one of the ways Linerworld stands apart! We offer free shipping on all of our swimming pool liners, products, and accessories, including our Mighty Mammoth pumps.

Orders placed by 2 PM (CST) generally have same-day shipping. Most customers receive their orders within 1-3 business days.
Do you ship outside of the United States?

No. We only ship our pool pumps, liners, and other accessories within the United States currently. Contact us if you are looking for international shipping options or have questions.
Do you have a return policy for your pool pumps?

We accept returns on all unopened, unused swimming pool accessories within 30 days, including our Mighty Mammoth pumps. Some fees and restrictions may apply.

Please read our full return policy for more details.
What forms of payment do you accept?

LinerWorld accepts all major credit and debit cards, including Visa, MasterCard, American Express, and Discover.
How can I contact LinerWorld?

Our team is standing by, ready to answer your questions about swimming pool pumps, filter systems, liners, and other accessories. Contact us via our online form or live chat.

You can also reach us by emailing support@linerworld.com or calling customer service at (708) 489-9932 during business hours.
Make a splash with these fun extras