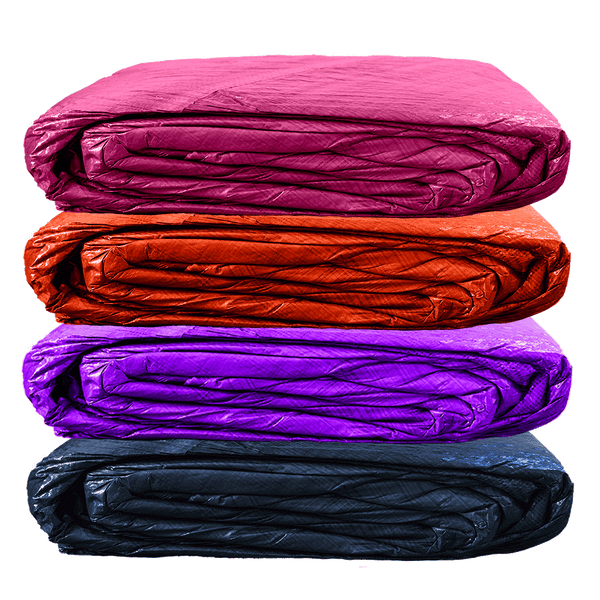 Description
Winter Warrior above ground pool covers from LinerWorld are incredibly durable and designed to protect your swimming pool. We have oval and round covers that are available in multiple sizes to fit your pool. Choose from 4 colors - orange, pink, purple, or blue.
Keeps unwanted debris, sunlight, and contamination out of the pool
Comes with a coated cable and winch
4ft overlap for a better fit
Can withstand high winds and weather conditions
Heavy-duty coated woven material
FAQs
Why do I need a pool cover?

A pool cover keeps your swimming pool and pool liner safe from weather and debris during the off-season and when the pool is not in-use. It'll help you extend the life of your pool and reduce time and money spent on repairs, cleaning, and maintenance.
What is the pool cover made of?

Our winter pool covers are made from a heavy-duty coated woven material that'll resist ripping from sticks, rocks, and other debris. It's designed to stand up to wind, rain, and other harsh weather.
What size pool cover do I need?

Choose the size that matches your round or oval-shaped swimming pool. We have covers ranging from 12' to 33' for round swimming pools and 12'x18' to 21'x41' for oval pools.

If you need help measuring the length, width, and depth of your pool, check out our handy swimming pool measurement guide.
What colors are available?

Our Winter Warrior above ground pool covers come in orange, purple, pink, and blue. You're sure to find one you like that matches your backyard aesthetic.
How do I maintain my pool cover?

The easiest way to maintain your pool cover is to regularly remove debris using a hose. Avoid using any sharp objects that may accidentally slice the fabric.

Try to avoid dragging the cover on the ground and make sure it is fully dry before putting it in storage.
What is the shipping process at LinerWorld?

At Linerworld, we offer fast, free shipping so that you can spend more time splashing around and having fun. All of our swimming pool liners, products, and accessories — including our Winter Warrior above ground pool covers — ship free.

Orders placed by 2 PM (CST) typically ship the same day. Most customers receive orders within 1-3 business days.
Do you ship outside of the United States?

No. At this point, we only ship within the United States.
Do you have a return policy for your pool covers?

We accept returns on all unopened, unused pool covers and other swimming pool accessories within 30 days. Some fees and restrictions may apply. Please read our full return policy for more details.
What forms of payment do you accept?

LinerWorld proudly accepts all major credit and debit cards, including Visa, MasterCard, American Express, and Discover.
How can I contact LinerWorld?

Our team is standing by, ready to answer your questions about pool covers, winterizing your pool, and more. Contact us via our online form or live chat.

You can also reach us by emailing support@linerworld.com or calling customer service at (708) 489-9932 during business hours.
Make a splash with these fun extras