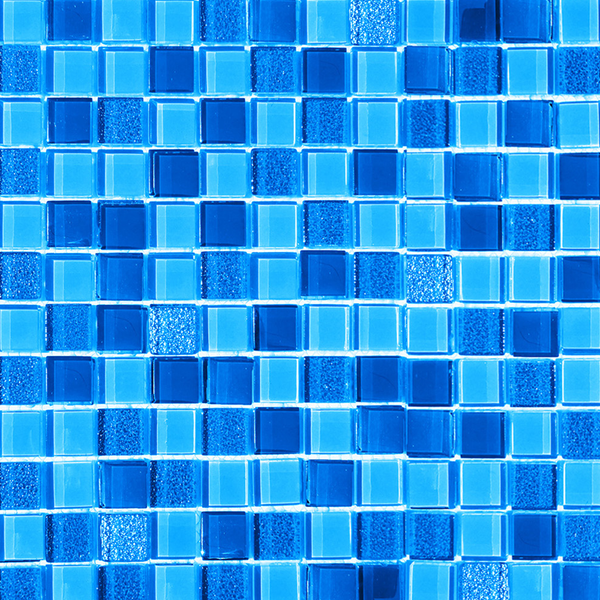 Description
Love the look of pool tile, but not willing to invest in the cost or time it takes to maintain? We have the perfect solution for your backyard! The Royale Abyss round overlap pool liner has the look and feel of mosaic blue pool tile with the convenience of a vinyl liner!
Pool liner specifications:
Heavy-duty, 100% virgin vinyl
Fits up to a 54" wall height
25 gauge
More details:
Beautiful, attractive design
Unique patterns not found anywhere else
Chemically treated to resist harmful UV rays
Fade-resistant
Easy, simple installation
No tracking needed
Coping strips required for installation
Warranty:
25 yr, prorated manufacturer's warranty
Covers manufacturer defects
Read more about the warranty
FAQs
If you have questions about LinerWorld and our above ground round pool liners, you've come to the right place. We've compiled some of the top questions about our round swimming pool liners. Need help finding what you need? Check out our full FAQ page or contact us for more information.
How do I measure my above ground round swimming pool?

To get the measurements for a round pool, measure from inside wall to inside wall. For best results, we recommend measuring twice — once at the top of the pool wall and again at the bottom of the pool.

Then, measure your pool's depth from the deepest point on the floor to the top of the inside of the pool wall.

Check out our easy-to-follow swimming pool measurement guide to learn more about measuring your pool.
If I don't see my pool size, can I buy the closest liner size and use that? Will it fit properly?

No. We make our round pool liners to fit the exact measurement of your swimming pool. So, if your pool measures slightly under or above 27 feet, the 27-foot round liner will not fit your pool properly. An inaccurate size is also more likely to tear, wrinkle, or slip.
What is the difference between an above ground round overlap pool liner and a beaded pool liner? How do I know which one I need?

Overlap and beaded pool liners are two of the most common types of liners for round swimming pools. You'll know what type you need by looking at how the liner attaches to the top of your pool wall.

Overlap pool liners go over the side of your pool wall and are held in place by coping strips that go around the edge of the pool. Beaded liners are fed into a bead receiver (which is installed on the inside of your pool wall) and locked into place.

Learn more about these different liner types in our beaded and overlap pool liner guide.
What are your above ground round pool liners made of?

Our round pool liners are made of high-quality vinyl. Vinyl is the most popular material for above-ground swimming pool liners because it is durable, flexible, and resistant to UV rays.
What is the thickness of your round pool liners?

All our above ground pool liners are 25 gauge.
Do you have above ground round liners for deep ends?

Our expandable pool liners are designed to expand easily into deep-end swimming pools. You can also use them in flat-bottomed round pools.
How do I install my new above ground round swimming pool liner?

The installation process is important. Our vinyl pool liners are designed to be installed one specific way for proper installation. Read our complete above ground pool liner installation guide and contact our team for extra assistance.
Do you have a warranty for your above ground pool liners?

Yes. All of our above ground pool liners come with a 25-year, prorated manufacturer's warranty that covers manufacturer defects. We recommend you read through our warranty carefully before purchasing.
How long do your above ground pool liners last?

The lifespan of a pool liner depends on several factors, such as the level of care and maintenance and the amount of sun exposure. Typically, a well-maintained vinyl pool liner lasts 10-15 years or more.
What is the shipping process?

At LinerWorld, we pride ourselves on our fast and free shipping. We offer free shipping on all of our swimming pool liners, products, and accessories.

Orders placed by 2 PM (CST) typically ship the same day. Most customers receive their orders within 1-3 business days. With LinerWorld, you'll experience less waiting and more time enjoying your pool!
Do you ship outside of the United States?

No. We currently only ship within the United States at this point.
Do you have a return policy for your above ground round swimming pool liners and accessories?

Yes. We accept returns on unopened, unrolled pool liners and accessories within 30 days. Some fees and restrictions may apply.

Note that custom orders are not returnable.

Please be sure to read our complete return policy for more details.
What forms of payment do you accept?

LinerWorld proudly accepts all major credit and debit cards, including Visa, MasterCard, American Express, and Discover.
How can I contact LinerWorld?

Our team is standing by, ready to answer your questions about round pool liners and all our other liners and accessories. Contact us via our online form or live chat.

You can also reach us by emailing support@linerworld.com or calling customer service at (708) 489-9932 during business hours.
Your pool is going to look great with that liner! Based on the pool liner size and shape you selected, we've put together the following packages just for you!
Make a splash with these fun extras