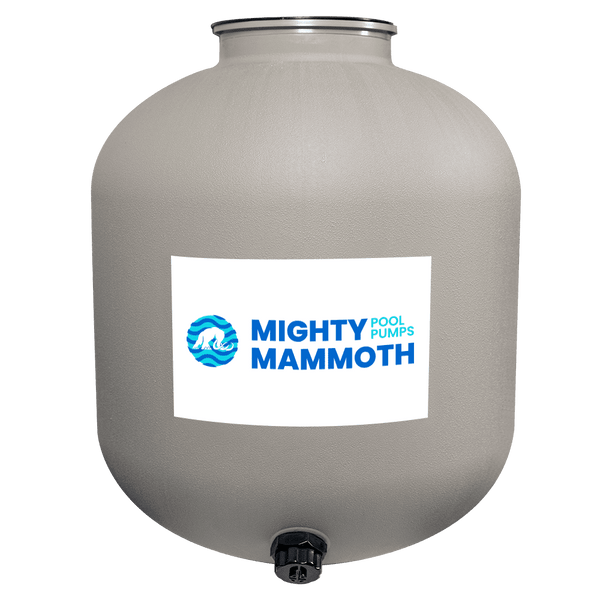 Description
Superior filtration from the inside out.
Cost-effective and convenient, Mighty Mammoth Sand Tanks offer the ideal combination of energy efficiency and durability. Enjoy outstanding water clarity with the value promise that Mighty Mammoth delivers on every time.
With the help of an integral top diffuser, unfiltered swimming pool water is distributed evenly throughout the entire sand bed in a cascading, umbrella-like pattern. This allows for the greatest filtration possible from every square inch of sand. Then, the self-cleaning underdrain assembly provides a fast, balanced flow of clear water back to the pool while allowing for more thorough backwashing. Best of all, full-flow technology reduces your energy costs because the pool sand filter operates for shorter periods of time.
Features:
Corrosion-proof, compact housing protects the filter from severe weather
Impeller with brass inserts for long life and superior performance
Each tank is individually tested to ensure quality and reliability
6-Way multi-port provides for easy use and quick back-washing
Hydraulically balanced laterals, speed up flow velocity of filtered water
Drain cap with strainer for easy maintenance and winterizing
This filter keeps the sand height level to expose water to the maximum sand surface level possible for optimum filtration and efficient back-washing
Easy-to-use operating system that will keep your above-ground pool water safe and clean
Specifications:
Type: Sand Filter
Pool Type: Above Ground
Valve Function: Filter, Backwash, Re-Circulate, Closed, Rinse and Waste
Filter Media Included: No
Inlet/Outlet Fitting: 1-1/2"NPT 
Note: FILTER MEDIA NOT INCLUDED
FAQs
Thinking of buying one of our high-quality sand filter tanks? Great! We want to make your experience as smooth as possible, so we've put together some of the top questions about our tanks. If you don't see what you need, be sure to check out our full FAQ page or contact us. We're always here to help!
How does a pool sand filter work?

A sand pool filter system utilizes specially graded sand to eliminate impurities and debris from the water as it passes through the filter.

First, water is drawn from the pool and directed through a valve to the top of the sand filter. Next, the water passes through the sand in the tank, where it is filtered, and debris, algae, dirt, and bacteria are extracted. Finally, the cleaned water is directed back into the pool through another valve.
What is the sand filter tank made of?

Our Mighty Mammoth sand filter tanks are made of high-quality polyethylene. This material is super durable and stands up to consistent use and weather that causes cracks and corrosion.
What size filter tank do I need?

At Linerworld, we have two tank sizes available for our Mighty Mammoth sand filter systems:

-The 19-inch tank is recommended for pools up to 21,000 gallons or less

-The 22-inch tank is recommended for pools up to 26,000 gallons

Multiply the length, width, and depth of your pool together to calculate the volume of your pool in gallons. If you have questions about accurately measuring your pool, contact us.
How long will the sand filter tank last?

Overall, sand filter systems last about 5-7 years. Proper usage, maintenance, and water quality will keep your tank — and the entire filter system — working for years to come.
How much sand do I need?

This depends on what tank size you need. For the 19-inch tank, you'll need about 150 pounds of filter sand. For the 22-inch tank, you'll need about 200 pounds of filter sand.

High-quality filter sand is usually sold in 50-pound bags. Read the manufacturer instructions to make sure the sand you're getting is acceptable.

Sand is sold separately.
What is the shipping process at LinerWorld?

When it comes to shipping, we're a cut above. Linerworld offers free shipping on all of our swimming pool liners, products, and accessories, including our Mighty Mammoth sand filter tanks.

Orders placed by 2 PM (CST) typically ship the same day. Most customers receive their orders within 1-3 business days.
Do you ship outside of the United States?

We only ship within the United States currently. Contact us if you have questions or are looking for international shipping options.
Do you have a return policy for your sand pool filter tanks?

We accept returns on all unopened, unused swimming pool accessories for 30 days. Some fees and restrictions may apply. Please read our full return policy for more details.
What forms of payment do you accept?

LinerWorld proudly accepts all major credit and debit cards, including Visa, MasterCard, American Express, and Discover.
How can I contact LinerWorld?

We're always happy to chat with pool owners and answer any questions. Contact us via our online form or live chat.

You can also reach us by emailing support@linerworld.com or calling customer service at (708) 489-9932 during business hours.
Make a splash with these fun extras