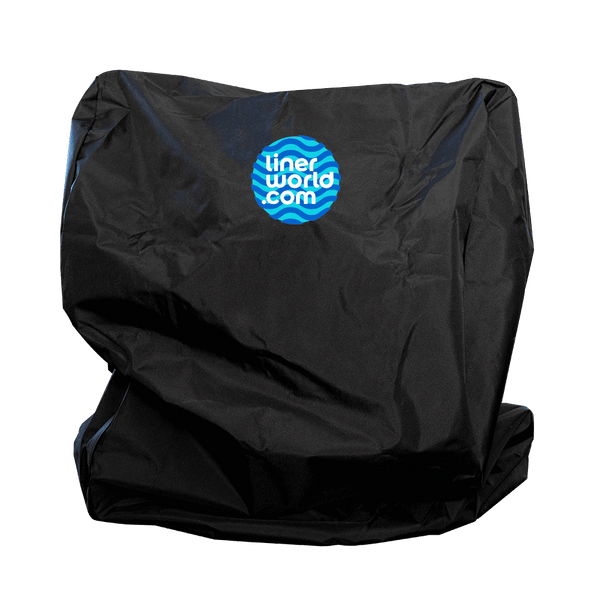 Description
Keep your sand filter tank protected with a durable cover from LinerWorld.
Features:
Durable thick poly blend water-resistant fabric
UV stabilized to resist color fading and weather damage
Fits tanks up to 22"
Premium
Mold & mildew resistant
Extend the life of your equipment
Exclusive to LinerWorld
FAQs
Have questions about our sand filter tank covers? Great! We're here to help. If you don't see what you need, be sure to check out our full FAQ page or contact us.
Should you cover your pool filter system?

Yes! A filter tank cover protects your above ground filtration system from weather, debris, and UV light — especially during the off-season. As a result, you'll extend the life of your filtration system and save on maintenance costs.
What is the cover made of?

Our filter tank covers are made of a durable, thick poly-blend fabric. It's incredibly water- and mold-resistant to protect your tank from corrosion and weather.
What size tank does it work with?

Our tank covers fit pool filter tanks up to 22 inches and is the perfect accessory for our Mighty Mammoth tanks.
What is the shipping process at LinerWorld?

Linerworld is proud to offer free shipping on all of our swimming pool liners, products, and accessories, including our high-quality poly-blend cover for your pool filter system.

Orders placed by 2 PM (CST) typically ship the same day. Most customers receive their orders within 1-3 business days.
Do you ship outside of the United States?

No. Currently, we only ship throughout the United States. Contact us if you have questions or are looking for international shipping options.
Do you have a return policy for your filter tank covers?

We accept returns on all unopened, unused swimming pool accessories for 30 days. Some fees and restrictions may apply. Please read our full return policy for more details.
What forms of payment do you accept?

LinerWorld proudly accepts all major credit and debit cards, including Visa, MasterCard, American Express, and Discover.
How can I contact LinerWorld?

We're always happy to chat with pool owners and answer any questions. Contact us via our online form or live chat.

You can also reach us by emailing support@linerworld.com or calling customer service at (708) 489-9932 during business hours.
Make a splash with these fun extras